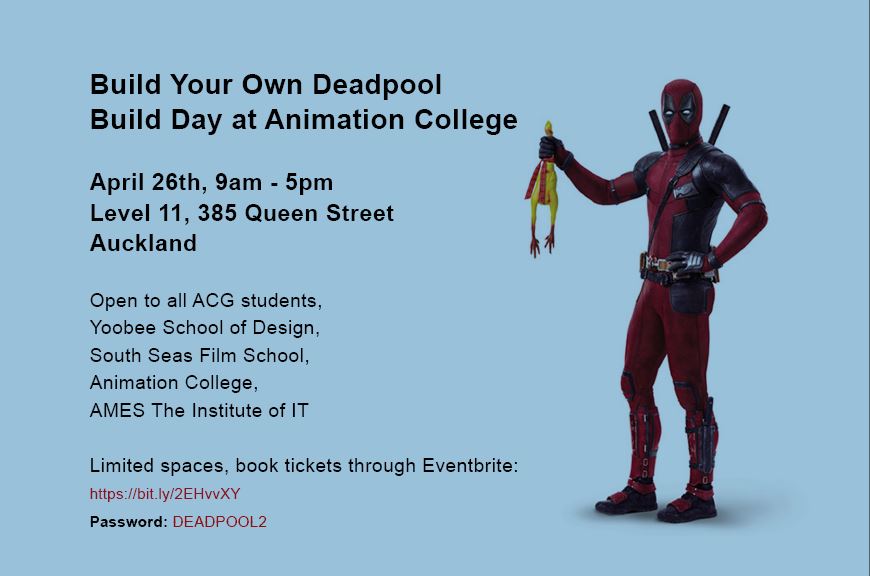 Design your own Deadpool Competition
Choose your medium:
Make a suit, giant cardboard cut-out,
Sculpture, mask, balloon animal or voodoo doll!
Enter to win 1 x double pass to the New Zealand premiere of Deadpool 2, starring NZ's own Julian Dennison!
There's also dead-cool Deadpool merch spot prizes.
Check T & C's for full comp entry details.
___________________________________________
Build Your Own Deadpool Competition T & C's
Entrants may use any materials available to them to 'build their own Deadpool' either at home or at the Deadpool 'Build Day at Animation College',
Official entrants need to present/wear their entry on May the 4th at the Queen Street entrance to Myers Park,381 Queen Street at 12pm.
The best Deadpool/winner will be selected on the day by our judge(s).On the spot prizes will be allocated for ingenuity and style.
Entrants must be present on the day to present their entries in person to be considered a valid entry. Team efforts are considered one entry. Entrants may enter as many times as they like.
Entrants must be okay with photos of their entries being published on social media.
Entrants also accept all terms and conditions of entry upon submitting their entries. The judge(s) decision is final.
The winner and guest of the NZ Premiere pass must make their own way to the cinema in Auckland. Premiere date, time and cinema are still a secret but guaranteed to be an amazing memorable event to make your classmates, teachers, friends and family as
jealous as #!@k.
20th Century Fox full Terms and Conditions apply.