Hello students,
This year's Exhibition is rapidly approaching! Below are important notes as we prepare:
DEADLINE: If you are wanting to exhibit and you haven't told Ryan or your Student Representative yet, please let Ryan know (ryan.lewin@yoobeecolleges.com) by 4 pm on Wednesday, December 4.
WHAT YOU NEED TO HAVE TO EXHIBIT:
Bring at least 5 works that you would like to showcase during the exhibition (videos, photos, or mix).
Your hard-drive with as much of your work as possible.
If you have your works already printed out, bring them along with you.
If you don't have your works printed out, we can print them for you here.
We will provide computers for you to use if you would like to showcase your animations or other works that are video.
Recommended: Bring your CV or business card to set up with your work as this could be a chance for you to connect with industries on the Wednesday night.
EXHIBITION SCHEDULE:
TIME

INFORMATION




TUESDAY, 10th of December:

*Be here at 10:30 am*

 

* Meet in the Theatrette*

 




Exhibition Set Up


All students exhibiting MUST come to the exhibition set up (you cannot be setting up just a couple hours before)

 

*Exhibition Spaces will be supervised by tutors who will help you select and present your best work.

 

 

WEDNESDAY, 11th of December:


5:30pm - 7:30pm

Opening Night





Invitees: Industries, Family & Friends

 

Dress code: Smart Casual

 

THURSDAY, 12th of December:


9:30am - 4:30pm

 

Open Day


 

THURSDAY and FRIDAY, 12th 

and 13th of December

Clean Up
LOCATION:  Both days are going to be held in the Yoobee Colleges Queen Street Campus (385 Queen Street) on the 11th Floor.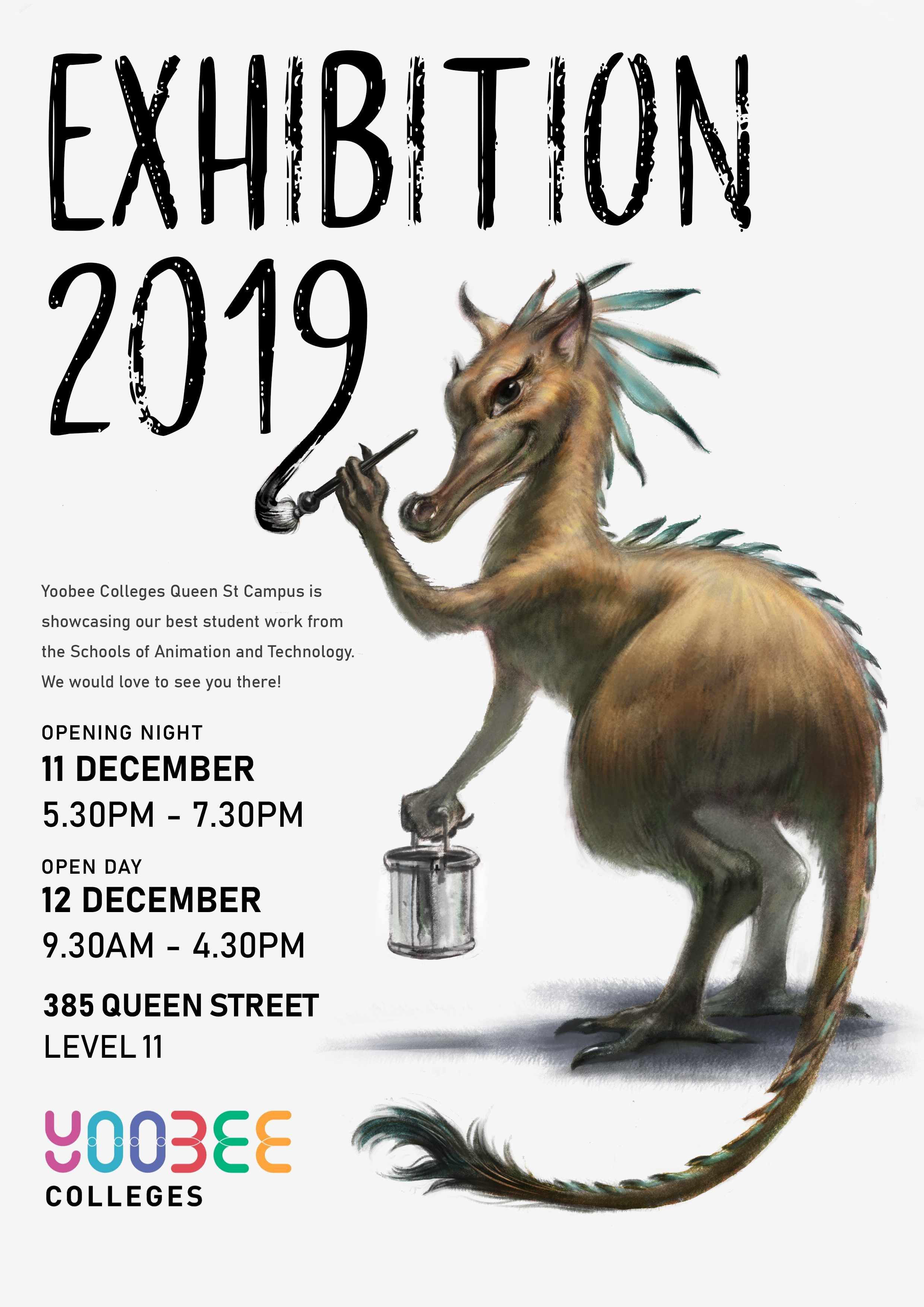 (Edited by Charissa Vandergrift - original submission Thursday, 28 November 2019, 11:05 AM)
(Edited by Charissa Vandergrift - original submission Thursday, 28 November 2019, 5:21 PM)